Doug Heel describes himself as "a surfer boy from Cape Town" and in his T-shirt and boardshorts or, on a serious business day, perhaps a tracksuit, you might fall for the ruse. A brief look at his CV, however, tells a different story: among others, he has worked with the Springbok rugby team, Miami Dolphins, Ajax Cape Town, Wladimir Klitschko and Team Barloworld at the Tour de France. Is it a coincidence that both David Frost and James Kingston came bursting back onto the scene and have had their best-ever seasons on the European Tour after sessions with Heel? Or that the Blue Bulls managed to claim the Super 14 title for the very first time – also after some valuable Heel-time? The answer, we would contest after a bit of Heel- ing of our own, is no, and here's why.
Doug Heel's area of expertise is called Muscle Activation and it's one of the most exciting additions to the modern 'holistic approach' to golf coaching that includes experts who look after your mental health, physical health and of course the health of your golf swing. What is it all about then? Well, the theory is that over time – and we are talking many years here – we have all 'forgotten' how to use certain muscles in our body through inaction. So what happens is that other muscles take over, compensating for the inactive ones. By not using these muscles in our daily lives they have gone dormant and, if you compare the suppleness of a toddler to that of most adults, who are generally unable to even touch their toes, you're starting to get an idea of how we have lost that muscle movement over time. Well, the good news is that we haven't really lost these muscles – they are still there, but it is just a matter of activating them and getting our body used to the fact that they do, in fact, still exist. Why would we want to use these muscles?
Heel explains: "It is about enabling athletes to achieve the best that they can with what they have got, and most people are not even scratching the surface of their potential."
To illustrate his theory, Heel has enough stories to keep a bar entertained until closing time – and they all rel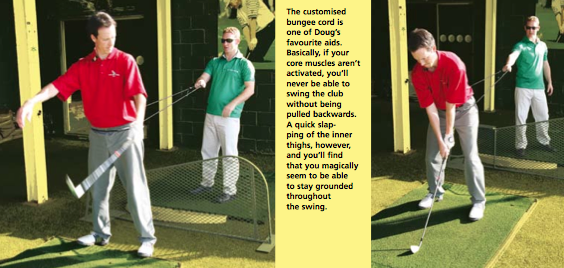 ate to a kind of 'miracle moment' when someone who has been using, for example, only his or her upper-body muscles, suddenly discovers how easy it is to perform when the lower body is also working. One of my favourites was the anecdote about Os du Randt. The story goes that Heel was invited to a Bok training session and he'd been keeping a close eye on the big guy since his return to rugby. What Doug had noticed was that Os tended to curve his back when running with the ball – a classic case of the body overcompensating for other muscles not doing what they should. To illustrate, five-foot-something Doug Heel, weighing in at a tad under your average scrumhalf, asked Os to resist him and then proceeded to push one of SA rugby's most celebrated front- rankers around the field with two fingers! It certainly got the lad's attention – and had it not been for a typically shortsighted case of politics within the Bok medical set-up, Heel would still be working with the team rather than simply accepting some individual players into his gym as 'private' clients. These kinds of politics are an ongoing theme in Heel's past. As the Sports Science Institute admitted (to its credit), he's working in a cutting-edge field that not many actually understand – and no-one likes to be shown up by a guy who's doing things that you can't do! It's this aspect of what Doug Heel does that gives him a rather disarming, trademark grin. When he looks at you, or observes anyone doing any- thing, he has a look on his face that says, "I know something you don't!" And you know what? He does.
So, in layman's terms then, what's it all about? Muscle activation involves locating certain pressure points on the body and pressing or rubbing them hard in order to release the muscle that has been inactive for so long. Once these core muscles are active, the body is no longer fighting itself to perform certain movements and is significantly more stable – in other words, we are talking about both flexibility and strength all at once. Of course, the activation eventually 'wears off', but if you activate enough times, your body eventually starts to remember what it's supposed to be doing. There's definitely an element of 'freaky' about the technique – like for example the fact that in order to activate the large gluteus muscles (that's your backside) you actually press on points behind your jaw and down the back of your neck. "The way I explain it is like this," said Doug. "If you come to me with a headache, the first thing I do is ask you to remove your shoe to check you don't have a stone in it. Everything is linked together – if you're tense in your jaw and neck, you probably aren't using muscles lower down in the body – like the glutes which are extremely important in the golf swing."