Description
The BeActivated Home activation tool kit has two essentials in the kit.  A Butt Bungi and the New Activation Tool. With the tool kit there will be an extensive online training program to give you insights in to the way you can more effectively activate and take care of yourselves.
The Home Activation Kit Includes:
1) Butt Bungi
2) The New Activator Tool
3) The online program to teach you how to use the tools and set up daily programs for yourself.
Bonus: Live Session January 9th, 2021
Since we ran this program so many people have shared their successes with both themselves and their clients. Perhaps you will understand why I am so excited by the HAK (Home Activation Kit).
Hi Douglas,
Thank you for the session on Sunday really enjoyed the re-framing whilst activating. I have only completed your level 1 digitally, which I have found has worked dramatically. I had been exposed to applied kinesiology many years ago but never the format that you teach, it just makes so much sense. 
I have practiced as an osteopath for the past 18 years but this concept of the 123 has given me a new inspired look at  my work. 
Thanks
Andy
—————————-
Loved the course, the breath hold really helped me release a rough part that was dragging with me from last year. Thank you!
——————————-
Hey Douglas,
I have just spent 3 hours immersed in your bat shit crazy world 🤦‍♂️😂😂😂. Watched it all through, then got my kit out and went through it as a participant. Blown away. Just awesome. 2020 was a dream for me – just perfect for an adrenaline junky 😳. Spent the whole year in fight so this was so good for me. I will write my story now. Now that is a shift. 😊
Namaste 🙏 
Norman.
———————————
Dear Douglas
Thank you!
Many thoughts fly through my mind at all times, and lately an important focus point for me has been to simplify and CLARIFY. 
The point In short:
I simply LOVE the activation tool. I love the combination with the Butt Bungi, and I love the of setting up time/date and the scene for doing it. 
Tool: solves several issues with applying pressure with my arms (being a 333-arm driver) and can be used for other techniques, that I rarely use on myself due to problems with my own ROM and pain. Having this tool takes care of passive mobilisation in the duration I want -not the duration that was possible.
Sarah Gaston
——————————-
Dear Douglas
Thank You. I really enjoyed seeing you yesterday. You are a great inspiration to me 🙏
Thanks for Minions and flowers – it made me smile ❤
The amount of information during the week has been convenient and perfect 👍 For me, it's best that the videos are not too long – mostly because I am sometimes challenged with the language. 
During the week I have been experimenting with the activation Tool and butt bungi. The butt bungi I need to work a little more with. 
But  I love my activation Tool – and for the first time, last Night,  I really think I can sense a difference in my body by self-activation. I think that I so far – also on all the Be Activated courses I have been on. Have I focused on the physical part, the outside of the body – muscles and joints and THAT´s a strange because I see myself as a "mindfull" person.
But – Yesterday was different. I do not quite know how to explain it. I did not discover it right away – but it was deeper – I have had it SO nice today. 
Thank you and many thoughts are sent in your direction 🙏
Jette 
———————————-
Hi Douglas,
Great workshop yesterday!
The pink balls work really well and is just what was looking for without realising. Since getting I have used every night just doing zone one and then did my pelvic floor and the connection was better and could feel it working. When I saw on facebook knew it would help as been getting frustrated as my pelvic floor strength not been improving ….this is from pushing out a 10lb 3oz baby…. The pink balls help me to focus more on the right spots and put more pressure to release. I had not realised the balls moved so that is handy!!!
Let me know if can buy more pink balls for my mat class/clients.
Laura
—————————————
Doug
You came with amazing energy, loving the tools to add more play to the activations.
I do agree- we all need different ways of accessing new depth to Keep us going.
So thank you for all your efforts in overcoming your IT shyness and building the marketing team to keep your voice heard- and progressing be activated at a time when 1:1 training isn't possible!
Best of all is the Focused activations, I will run with that one! I Would love to see what zone 2 and 3 points with the tools are. And any tips on how to Get it to stick!!
And more tools to do with the bungi!
You have inspired a community and a belonging within the group, having spent 6 days in your presence and now many hours listening to podcasts ,  integrating the knowledge it's really helpful, and to relate stories to appropriate clients- ie the o2 sats improvement with diaphragm release was great on Friday!
So your efforts are appreciated and helping us relate more to our clients and helping their understanding.
Keep it coming!
Lots of Irish love
Cara
—————————————-
Hi Douglas
Thank you very much for yesterdays session.
First: I just loved the tool. I'm such a wreck so I wont list all the place I  immediately found. But hamstrings, back calves and the wriggling on the lateral sling anterior was just fantastic. Seeing you wriggling was wonderful, because then I didn't feel alone in laying on my mattress doing really weird things.
Second: Last weekend I just felt the winter and the dark getting me depressed and on that the Covid closing the country down. Here January are always very dark, long and depressing! I can still work but there is not much flow in business. And like everybody else I lost income in 2020. So I so much needed something to look forward to. And there it was new toy and a 'session' last night.
Third: the session was great. I worked on my self esteem that I wanted to be better at in 2021. Quite a big subject to go in to. But I think its time for me to find my self confidence. Not in appearance, but inside.
I can feel something getting lighter in me already, but respect that I just started the journey. I made self activation this morning with the Word 'self esteem' in my mind. And it felt good.
Fourth: It was so amazing to release the neck sub C2 with the tool. I have longed for that in years.
So yes I'm still a fan of the work! And will try to bring it out in my world.
Till next time.
Kirsten
——————————
Hi Douglas,
Firstly I was blown away with my package coming all the way from SA to our little Scottish Island!!
So enjoyed your session last night, I wasn't sure what to make of the butt bungi but after your demo which I loved, with the intent of the year to come and saying goodbye to things that didn't work, I found this quite powerful and felt totally re-charged and ready to take on the world.
Glute activation really freed my neck up and I felt elongated through my top half.
In the bungi which is a great piece of kit I thought was quite subtle but effective, easy to use and comfortable i look forward to experimenting with it more.
The activation tool is a game changer, it got deep in my neck that I thought was ok! And into my psoas which I'm not keen on putting pressure on with my thumb, I found it helpful to get pressure and felt a real power through my zone 1, so much so I went out an easy 2 mile run this morning…….🏃‍♀️,  easy to use against the wall and again looking forward to using it more.
In general I feel ready to deal with this uncertain times 💪💪from home schooling to business closures and working from home with my family.
Thanks for your upbeat delivery which was fun and giving us the tools, to deal with all this craziness and help those around us.
The world could do with more Doug's 😊
Your enthusiasm is catching.
Best Regards
Morven
———————————————
Dear Doug,
Happy and Healthy New Year to you and your family! 
Thank you so much for the session yesterday. It was AWESOME! 2020 was a challenging year for me with ups and downs, and it felt like a complete isolation…. It was a realisation during that time that I was alone in the circle, you know the circle you're talking about. On the top of that people with whom I communicated had a different view on the ongoing events, which made me question my own sanity. However, it led to some kind of awakening and realising that I wasn't crazy after all. I was alone but I wasn't lonely. Daily activations definitely helped but the session yesterday was a game changer! It felt powerful! It worked immediately and I felt very strong and calm (I got a bit emotional after we finished the session, cried a bit but felt good afterwards, I felt that there's a hope:-)). It's like Bob's Marley saying, "You never know how strong you are until being strong is the only choice you have." BOOM! I know now that I have to activate with a purpose and the tools helped to feel it much stronger! I'm very grateful for the session and for your ability to deepen the mind and body awareness and connection! THANK YOU!!!
Best wishes,
Lena 
————————————-
Hi Douglas
Thanks a lot for the great session yesterday ! I got lots of powerful thoughts and valuable lessons that help dampen the negative loud noise and let me become more resilient towards it. I felt my focus to help myself first and become healthier in mind and body got even clearer doing the activation in the bungi combined with the tool. A better me can be even better towards others.
I love the HAK tool and I made sure it got quality tested by my one year old son Sisu ! He approves….
Michi
————————————-
Hello Doug
It has been nice to have a nice webinar with you and people around the world activating.
I would like to share some feeling and ideas
To begin with, the bungi is a really powerful tool alone for me, I felt motivated after the first trial.
As for the new tool, I think its kind of weird for me, the first time I used it, it has been amazing, a totally new sensation (I started with the sternal part of the diaphragm, and suddenly my chest was larger).
And I played with it a bit, using the head side to stick into the northen-east part of the lateral sling while moving my hip during standing ( I will send you the clips afterward), and suddenly my foot flattened, and arch kicked in.
Last, the Webinar has been awesome,  the description and connecting of activation with psyche helped a lot, both technically and personally.
That's about it, I will keep playing with it, and as soon as anything interesting comes up I will let you know.
Here's what I really appreciate:
During the webinar I heard your voice was different, almost like the one I heard in the antique USB- more determined, driven and confident, it has been powerful and dedicated voice, less armed with all those charms of yours, but more touching for me.
Really appreciate your showing yourself and glad to hear the energy and drive of yours.
We are going to have lots of fun this year, aren't we?
Denny Shang-En-Dien
———————————-
Doug
This is my third attempt at this email. The first two where too long and just too much. Hopefully this is the one that I send and that there aren't 100 more….
First and foremost thank you! I found HAK2021 to be fun, informative, emotional and freeing. Can you do more of these? You looked like you where having a blast and in your element! And the joy you radiate…. Well, we all need more of that! If you do plan on more of these, they will be on the what worked for me in 2020 list! Yep, if not for 2020 I wouldn't have discovered Be Activated. The homework you had us do really brought to light how much I actually gained in 2020!
Thank you, all my love,
John
———————————————
Hi Doug
Thanks for today.
When I first heard about your activation tool…I thought you are being innovative to try and make some money in a time where you can't teach. I was pleasantly reminded of your passion for what you do. And as these things are….it rubs off.
Thank you for carrying enough to put yourself out there. Thanks for the extra effort you put in to add extra value to today's presentation.
My lesson of what worked this year was. Less is more. The fact that we could not do all we wanted/planned or HAD to do in 2020  –  forced me to focus on what I could do. And that was good.
I have said this before. But maybe a good time to say it again:
What you teach as dramatically improved my health, changed my outlook and altered my life path. Thanks for helping me find my way!
Carel
——————————-
Hi Douglas,
Tonight was simple, affective and fantastic. Can I bulk buy the new treatment tools? I think they are going to be so helpful for so many people.
Thank you.
Carla 
————————————
Thank you so very much,
Was lovely to just concentrate and play in Zone 1.  What a difference in how my reaction to the "What didn't work in 2020" was before bungi and then after zone 1 in Bungi was.
After the Bungi the "did not work" memory was like water off a ducks back, a small insignificant dull memory. Ninja Butt Squeezing was quick and strong.
Bungi work  for "What I do want for 2021" I felt strong and empowered. What I wanted felt very close, in my face and POSSIBLE.
Thank you, I feel like I have a strong family with Be Activated… A family where we want to give back as much as we receive. Bring it on!
Melissa Segalov
—————————-
Hi Douglas.
Thanks for an amazing evening. You always rock my world. 
This started a wave in me. Thanks
I got the activation stick and and thought really? And then I did all the things in Mondays mail, and have been activating everyday since. 
I have always loved being treated with BA, but have really had a hard time, getting results with self activation, so i have been doing it random, without intention other than to maintain, just as you said. 
The Rub a dub, changes me so much, it made me feel young and free.  And the neck thing we did today made me cry. And now it feels so good.
I got so much clarity, and as always after your company, i need to change things. Disturbing, but also great.
Maja Giver
——————————
Douglas,
Thank you for an efficient and effective workshop today.  I feel the activation tool improved the intensity and effectiveness of clearing the glute circuit, especially the back of the neck.  I also like that I can hit the psoas spots deeper with the end of the tool.  The butt bungi felt like it wasn't even there after the activations, which obviously provided the aha moment of it's purpose. Thank you so much for sharing and your time, and I look forward to more courses with you.
Mark Rogers
————————————-
Hi Doug
Thank you so much for tonight as always enlightening and encouraging.
I am feeling clearer and EMPOWERED like I can shine my light brighter and actually I now believe I HAVE to shine my light brighter it is not a choice!
Thank you for throwing the stone and sparking joy!
Jeni x
————————————
Hey Doug
You remember me … the biggest sceptic in the room at Sheffield!!!
I am still blown away every day with Be Activated results!!
Thank you so much for the HAK … something I have been needing for a long time!
The most amazing self activation tool that works!! 
Feeling awesome after the activations tonight
Thank you!!!
—————————
The Butt Bungi has always been an important and favourite tool to Activate ourselves. We have people using these everyday to help keep their systems in the best place possible. Now is the time to pair that with the New Activation Tool.  Over the years I have accumulated over 50 activation devices from wood, plastic, metal, moulded, carved and even cow horn –  all have done the job.  It was only recently I found something that immediately made a difference to the way I Self Activated, and realised that together with the Butt Bungi is a great pairing for taking care of ourselves. The advantage to the New Activation Tool, is we can effectively activate the posterior activation points with the adjustable ball position and option of using it in the Butt Bungi, or without and up against the wall or lying on the ground.  It has been a while since I have been so excited to find something that can add to the effectiveness of me taking care of myself.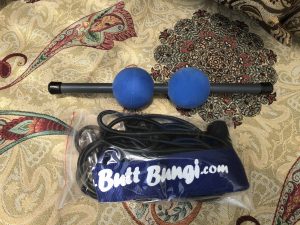 "I am in the early stages of Parkinson's disease and my symptoms include stiffness and pain in my back and limbs and a slight tremor which impacts on activities in everyday living.
Three months ago I began weekly Be Activated sessions with Linda via Zoom which has turned out to be a hugely positive experience for me.
Each session left me with a feeling of wellbeing, energised and the ability to move more freely.
With Linda's direction I have continued the exercises independently between sessions, growing in confidence and feeling empowered to manage my symptoms.
Over time I feel that I have benefited greatly from an improvement to my symptoms and reduced pain.
I can look with more hopefulness to my future with a greater autonomy over my disease
 Thank you Linda for all you have and continue to do."
Shared by Linda Weatley